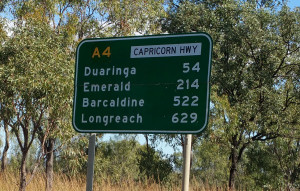 We have now begun to head west along the Capricorn Highway. As its name suggests, it quite closely follows the Tropic of Capricorn. After a short period, we had left the sugar cane behind and came on dry pasture land, much like you might find around Goulburn. However, every 40km or so there was another big coal train running towards the coast.
Soon we came on to Blackwater, which had a huge open cut mine just to the south of the highway. As we disagree with Tony Abbott that the future of Australia is coal, we kept going. Although our goal was Longreach, we decided not to drive 700 km in a day so stopped at Emerald in the Botanic Gardens, where we found 8 other caravans with exactly the same idea.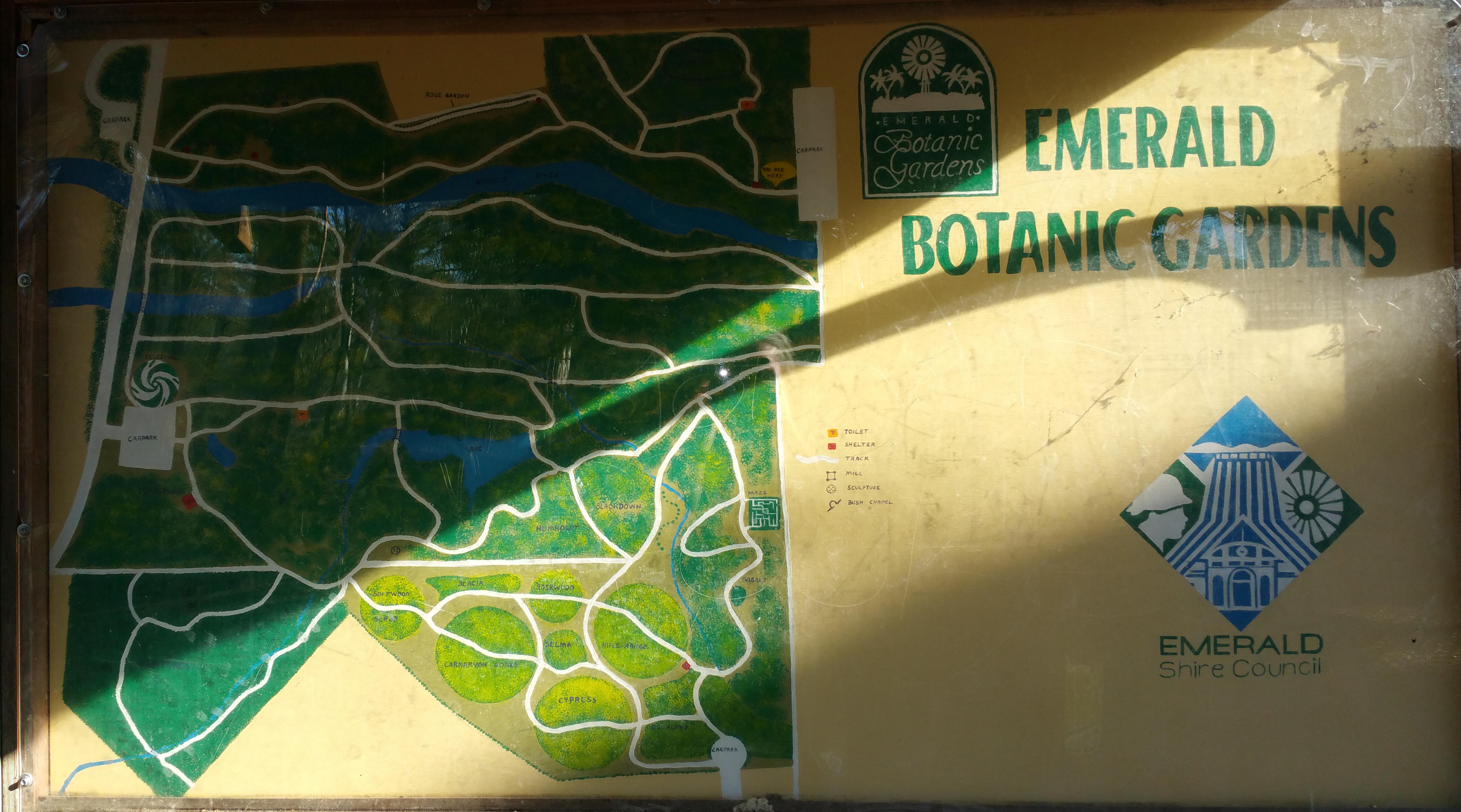 That evening I went for a walk with the dog and found the maze. Although it was very dark (no moon, just stars), the Meleluka Maze was quite easy to solve as I could see the scuff marks of the foot prints of the previous visitors in the soil. Assuming no-one got lost in the maze, and everyone makes a random choice at each corner, everyone must walk on the right path, but only a few will take the wrong path. So by following the most footmarks, I made the right turn every time. (My brother, Jean-Leo, would ask, "…but what is a crowd of Japanese tourists went into the maze, took a wrong turn and called for a helicopter to get them out?")
After the maze I did the Celestial Garden, but that was just a set of concentric circles and no challenge at all to solve. I tried to find a wrong path and failed!
On the way back I met a large cane toad in the middle of the path. I shone my torch on it so the dog would avoid it. The dog was curious and stuck his nose against it. The toad just ducked a bit but showed no concern. Fortunately the dog moved on.
On the way back I met a chinese gentlemen with a long beard doing something to the trees with bread. The following morning I heard and found what he was up to.