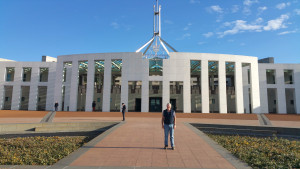 Yesterday Ash and I visited the old and new Parliament House. Apart from the fact that I was accompanied by a teenager, it was a very interesting visit and a beautiful day to be out in.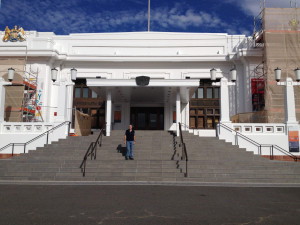 The Old Parliament House is now a museum, but has been left largely untouched since it was vacated in 1988. You can sit in any seat of the House of Representatives or the Senate (apart from the Speaker's/President's seat). You can see the various rooms used by government and opposition. They are filled with typewriters and TVs from the period.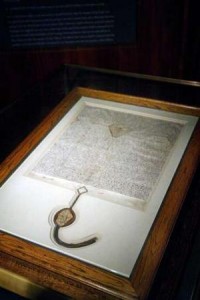 New Parliament house was only a 10 minute walk away. It is huge by comparison, and as a result, the bells for voting ring for 4 minutes not 2. (They calculated this by getting the oldest member of parliament in 1988 to walk from the furtherest reaches of the building to the house and timed him – 3 minutes and 45 seconds!) I was fascinated to see there was a 1294 copy of the Magna Carta on display there – apparently each king was forced to sign a copy. This one had the seal of an Edward.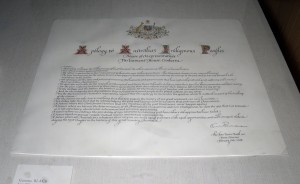 Other significant documents there included the Apology to the Aboriginal People delivered by Kevin Rudd. Several significant artworks covered the history of the place, including a Tom Roberts and an Arthur Boyd.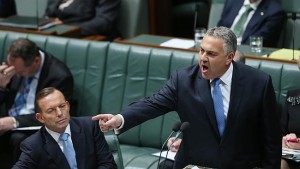 The key attraction was Question Time. (Photo from "The Australian" as no electronics were allowed into the gallery.) It is a same thrill as watching a game live to see these people you know so much about in a debate/performance with each other. We were they for an ejection, Tony Abbot managed to address Bill Shorten as the Prime Minister, Hockey gave a very humorous rant on the Word properties of a document, and Bronwyn Bishop gave a splendid rendition of a school librarian.